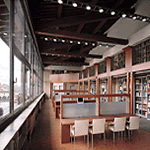 The library of the Istituto e Museo di Storia della Scienza is situated on the 3rd and 4th floors of Palazzo Castellani. The new library spaces, designed by architects Adolfo Natalini and Marco Magni, were inaugurated in April 2002 by President of the Italian Republic Carlo Azeglio Ciampi.
The library has been honored with the Biblioteche in vetrina ("Libraries on Display") award, conferred by the Associazione Italiana Biblioteche (Italian Library Association) upon the best library created in 2001-2002.
.................................