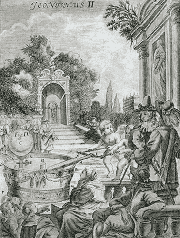 Hydraulic 'Amorini'.
Gaspar Schott, Technica curiosa, sive, Mirabilia artis, Würzburg 1664

For the Royal Wedding between Cosimo the Third of Tuscany and Margherita d'Orleans in 1661, a typically baroque celebration was held in the Amphitheatre of the Boboli Gardens. A gigantic image of Atlas was seen to come out from a rocky landscape, carrying a globe picturing the heavens on his shoulders. The globe opened during the various spectacles which accompanied the entry of Cosimo dei Medici. Inside were four mounted knights who represented the Medicean Stars, the satellites of Jupiter discovered by Galileo in 1610.