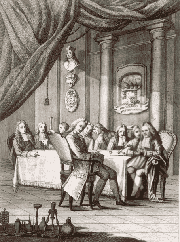 A meeting of the members of the Accademia del Cimento.

The restaging of some of these extraordinary seventeenth-century experiments, which mark a fundamental stage in the transformation of modern physics, recreates that sense of "wonder" made by such discoveries, and which also, at the same time, provided the identity and purpose of the dazzling stage-sets created by famous artists such as Buontalenti and Vasari for Medici celebrations. This exhibition takes place within the setting, of course not by chance, of the Pitti Palace and the Boboli Gardens (where in the mid-seventeenth century, there usually met the Accademia del Cimento the first European academy for experiments, which, moreover, occupied itself constantly with research on the vacuum).
Horror vacui also recreates the atmosphere of astonishment which marked the triumphal declaration of the new science in the baroque courts, particularly that of the Medici. Indeed, the Princes of Tuscany showed great sensitivity for the spectacular nature of the experimental performances, and knew how to use them to the full for projecting their image far afield.