NUNCIUS Library - Studies and Texts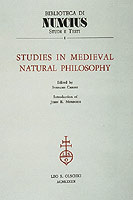 The NUNCIUS Library publishes the results of original research in the history of science and technology, as well as editions of sources accompanied by critical comments and interpretive articles. In the NUNCIUS Library series, launched in 1989, the following volumes have been published thus far (click on title links for abstracts in English and Italian):
Caroti, S., ed., Studies in Medieval Natural Philosophy, 1989, viii-334 pp.

Monti, M.T., Congettura ed esperienza nella fisiologia di Haller (Haller's Conjectures and Experiments in Physiology), 1990, 273 pp., Illust.

Bedini, S.A., The Pulse of Time, 1991, 146 pp.

Dollo, C., ed., Archimede. Mito, Tradizione, Scienza (Archimedes: Myth, Tradition, Science), Atti del Convegno, (Syracuse, Catania, 1989), 1992, viii-486 pp.

Piaia, G. and Soppelsa, M.L., ed., I Riccati e la cultura della marca nel Settecento europeo, Atti del Convegno (Castelfranco Veneto, 1990), 1992, xvi-413 pp., plates

Piva, F., Anton Maria Lorgna. La biblioteca di uno scienziato settecentesco (Anton Maria Lorgna: The Library of an 18th-century Scientist), 1992, 137 pp.

Maltese, G., La storia di «F=ma». La seconda legge del moto nel XVIII secolo (The Story of "F=ma": The Second Law of Motion in the 18th Century), 1992, xi-230 pp.

Vaccari, E., Giovanni Arduino (1714-1795). Il contributo di uno scienziato veneto al dibattito settecentesco sulle scienze della terra (Giovanni Arduino, 1714-1795: The Contribution of a Venetian Scientist to the 18th-century Debate on Earth Sciences), 1993, 407 pp.

Baroncini, G., Forme di esperienza e rivoluzione scientifica (Forms of Scientific Experiment and Revolution), 1992, 193 pp.

Bucciantini, M. and Torrini, M., ed., Geometria e atomismo nella scuola galileiana (Geometry and Atomic Philosophy in the Galilaean School), 1992, 213 pp.

Mazzolini, R.G., ed., Non-Verbal Communication in Science Prior to 1900, 1993, 620 pp., Illust.

Mandrino, A., Tagliaferri, G., and Tucci, P., ed., In viaggio in Europa nel 1786. Diario di Barnaba Oriani astronomo milanese (Travelling through Europe in 1786: The Diary of Barnaba Oriani, Milanese Astronomer), 1994, 225 pp., 8 plates

Beretta, M., A New Course in Chemistry: Lavoisier's First Chemical Paper, 1994, 101 pp., Illust. (Uppsala Studies in the History of Science; 16)

Gatto, R., Tra scienza e immaginazione. Le matematiche presso il collegio gesuitico napoletano (1552-1670 ca.) (Between Science and Imagination: Mathematics at the Neapolitan Jesuit School ca 1552-1670), 1994, 392 pp., Illust.

Blondel, C. and Dörries, M., ed., Restaging Coulomb. Usages, controverses et réplications autour de la balance de torsion, 1994, 167 pp., Illust.

Beretta, M., Bibliotheca Lavoisieriana, 1995, 363 pp. Illust. (Uppsala Studies in the History of Science; 20)

Ciardi, M., L'atomo fantasma (The Ghostly Atom), 1995, 220 pp.

Ciancio, L., Autopsie della Terra (Autopsy of the Earth), 1995, 385 pp.

Bucciantini, M., Contro Galileo: all'origine dell'affaire, 1995, 218 pp.

Barsanti, G., Becagli, V. and Pasta, R., ed., La politica della scienza. Toscana e stati italiani nel tardo Settecento (The Politics of Science: Tuscany and Italian States in the Late 18th Century), Atti del Convegno (Florence, 1994), 1996, 587 pp.

Bucciantini, M., and Torrini, M., ed., La diffusione del copernicanesimo in Italia (The Diffusion of Copernicanism in Italy), Atti del Convegno (Napoli, 1992), 1996, 271 pp.

Ferrari, G., L'esperienza del passato (Experiments of the Past), 1996, 357 pp.

Gómez López, S., Le passioni degli atomi (The Passion of Atoms), 1997, 240 pp.

Caroti, S. and Souffrin, P., ed., La nouvelle physique du XIVe siècle, Atti del Convegno (Nice, 1993), 1997, 349 pp.

Bettini, A., Cosmo e apocalisse (Cosmos and Apocalypse), 1997, 320 pp.

Mazzone, S. and Roero, C.S., Jacob Hermann and the Diffusion of Leibnizian Calculus in Italy, 1997, 554 pp.

Meli, D. Bertoloni, ed., Marcello Malpighi: Anatomist and Physician, 1997, 325 pp., Illust.

Bret, P., Lavoisier et l'encyclopédie métodique, 1997, 202 pp.

Meschini, F.A., Neurofisiologia cartesiana (Cartesian Neurophysiology), 1998, 158 pp.

Segala, M., I fantasmi, il cervello, l'anima. Schopenhauer, l'occulto e la scienza (Ghosts, the Brain, and the Soul: Schopenhauer, the Occult, and Science), 1998, 248 pp.

Fiocca, A., ed., Giambattista Aleotti e gli ingegneri del Rinascimento (Giambattista Aleotti and the Engineers of the Renaissance), 1998, 462 pp.

Beretta, M., Pogliano, C., and Redondi, P., ed., Journals and History of Science, Atti del Convegno, (Florence, 1997), 1998, 268 pp.

Francesco Redi. Un protagonista della scienza moderna. Documenti, esperimenti, immagini (Francesco Redi: a Leading Figure in Modern Science - Documents, Experiments, and Images), edited by W. Bernardi, L. Guerrini, 1999, 388 pp., Illust.

Ciardi, M., La fine dei privilegi. Scienze fisiche, tecnologia e istituzioni scientifiche sabaude nel Risorgimento, 1999, 349 pp.

Giudice, F., Luce e Visione. Thomas Hobbes e la scienza dell'ottica, 1999, 180 pp.

Pareti, G., Il cancro dell'Imperatore, 2000, 219 pp.

Camerota, F., Il compasso di Fabrizio Mordente, 2000, 299 pp., Illust.

Borrelli, A., Istituzioni scientifiche, medicina e società. Biografia di Domenico Cotugno (1736-1822), 2000, 270 pp.

Stoffel, J.-F., Bibliographie d'Alexandre Koyré, 2000, 195 pp.

Abbri, F. and Segala, M., Il ruolo sociale della scienza, 2000, vi-177 pp.

Besomi O. and Camerota, M., Galileo e il Parnaso tychonico. Un capitolo inedito del dibattito sulle comete tra finzione letteraria e trattazione scientifica, 2000, vi-274 pp.

Laurenza, D., De figura umana. Fisiognomica, anatomia e arte in Leonardo, 2001, xxxi-241 pp., Illust.

Contardi, S. La casa di Salomone a Firenze. L'Imperiale e Regio Museo di Fisica e Storia Naturale (1775-1801), 2002, xix-322 pp., Illust.

Borgato, M.T., Giambattista Riccioli e il merito scientifico dei gesuiti nell'età barocca, 2002, xviii-483 pp.

Alliney, G., Time and Soul in Fourteenth-century Theology: Three Questions of William of Alnwick on the Existence, the Ontological Status, and the Unity of Time, 2002, lxiv-192 pp.

G.B. Hodierna e il "Secolo Cristallino", edited by M. Pavone, M. Torrini, 2002, 345 pp.

Laurenza, D., La ricerca dell'armonia. Rappresentazioni anatomiche nel Rinascimento, 2003, ix-141 pp., Illust.

Piccolino, M., The Taming of the Ray: Electric Fish Research in The Enlightenment from Walsh to Volta, 2003, xiv-221 pp.

Musa Musaei. Studies on Scientific Instruments and Collections in Honour of Mara Miniati, edited by M. Beretta, P. Galluzzi, C. Triarico, 2003, viii-486 pp.

Fabbri, N., Cosmologia e armonia in Kepler e Mersenne. Contrappunto a due voci sul tema dell'Harmonice, Mundi, 2003, 279 pp., Illust.

The Routes of Learning: Italy and Europe in the Modern Age, edited by F. Abbri and M. Segala, 2003, ix-141 pp., Illust.

Quia inter doctores est magna dissertatio. Les discussions de philosophie naturelle à Paris dans le XIVe siècle, edited by S. Caroti and J. Celeyrette. 2004, ix - 239 pp.

When Glass Matters, edited by Marco Beretta. 2004, xiv - 335 pp., Illust.

Figure dell'invisibilità (Figures of Invisibility), edited by Maria Teresa Monti and Marc J. Ratcliff, 2004, XXI-303 pp., Illust.

Tecnologia e meccanica (Technology and Mechanics), edited by Giovanni di Pasquale, 2004, VI-407 pp., Illust.

Linguerri, Sandra, Vito Volterra e il comitato talassografico italiano. Imprese per aria e per mare nell'Italia Unita (1883-1930), 2005, XII-272 pp.

Cadeddu, A., Les vérités de la science. Pratique, récit, histoire: le cas Pasteur, 2005, XVII-279 pp.

Girolamo Fracastoro. Fra medicina, filosofia e scienze della natura, edited by A. Pastore and E. Peruzzi, 2006, IV - 364 pp., Illust.

L. Pepe, Istituti Nazionali, Accademie e Società Scientifiche nell'Europa di Napoleone, 2005, XXX - 524 p.

Scienza a due voci, a cura di R. Simili, 2006, xx-374 p., ill.

Scienza e teologia fra Seicento e Ottocento. Studi in memoria di Maurizio Mamiani, a cura di C. Giuntini e B. Lotti, 2006, X - 150 p.

Advancements of Learning. Essays in Honour of Paolo Rossi, a cura di J. Heilbron, 2007, viii-276 p.

More than pupils. Italian women in science at the turn of the 20th century, edited by V.P.Babini and R. Simili, 2007, xviii-216 p.

Mechanics and cosmology in the Medieval and Eraly Modern Period, edited by M. Bucciantini, M. Camerota, S. Roux, 2007, xvi-212 p., ill.

Anna Morandi Manzolini. Una donna fra arte e scienza. Immagini, documenti, repertorio anatomico, edited by M. Focaccia, 2008, x-268 p., ill.

Lucrezio, la natura e la scienza, edited by Marco Beretta e Francesco Citti, 2008, vi-240 pp., ill.
.................................