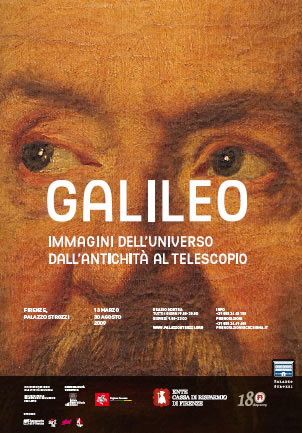 On March 13th, 2009 the exhibition Galileo. Images of the universe from antiquity to the telescope has been inaugurated at Palazzo Strozzi, in Florence. The exhibition is a journey through space and time, exploring the science of the heavens and the birth of astronomy from the astonishing knowledge of the heavenly bodies that the peoples of Mesopotamia and the Nile delta had built up to the achievements of the classical Greek and Roman civilizations and of the Islamic, medieval Christian and Renaissance cultures. Finally, it takes us to the head of the astronomical revolution heralded by Nicolaus Copernicus, confirmed by Galileo and his telescope, and completed by such extraordinary figures as Johannes Kepler, René Descartes and Isaac Newton.
Conceived and curated by Paolo Galluzzi, director of the Institute and Museum of the History of Science, the exhibition focuses on the global and transversal dimensions of cosmology, highlights the complex relationship that cosmology has established through the ages with other aspects of human thought, and answers the questions that astronomy has provided to man's hopes, fears and practical needs.
The event has been promoted and organized by the Ente Cassa di Risparmio di Firenze as well as the Fondazione Palazzo Strozzi. Financial support was also provided by the Ministero per i Beni e le Attività Culturali, della Regione Toscana and by the Comitato Nazionale per le Celebrazioni Galileiane.