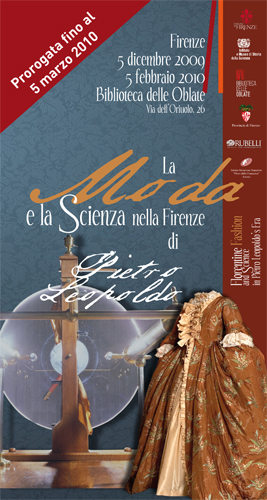 Within this exhibition being held at the Oblate Library we have tried to recreate the atmosphere of Florence during the Lorena era by displaying magnificent eighteenth-century-like outfits along with didactic scientific instrument copies which were favourites of Pietro Leopoldo di Lorena (1747-1792).
This novel union between science and fashion gives us the possibility to regard the society of that time in a new way that allows us to be emerged in some of the less well-known aspects that we believe have revealed an interesting relationship between the two fields. In order to increase your awareness of the relationship between fashion and science it is necessary to become acquainted with the technical aspects that are necessary for creating the "geometry of dressmaking." Optimal use of fabrics and the use of measuring devices by tailors are examples of the technical aspects during this era.
The outfits displayed, designed by Andrea Gori for the firm Rubelli, reproduce with all of their beauty and uniqueness those created in the 18th century by expert artisans with the use of manual looms. Throughout the 1700's the looms' mechanical functions were continually improved upon until the beginning of the next century when Joseph Marie Jacquard (1752-1834) invented a device that could raise the warp threads in a mechanical way which revolutionized the textile sector.