Although Leonardo is commonly known as a "universal genius", the exhibitions dedicated to him have almost always focused on some specific area of his activity: art, anatomy, technology, studies on water, on flight, and so on.
The Mind of Leonardo offers its visitors a different point of view, inviting them to explore the Genius' very mode of thinking and his unitary conception of knowledge as the effort to assimilate, through bold theoretical syntheses and inventive experiments, the laws that govern all of the wondrous operations of man and nature.
This approach gives rise to a different image, one that helps to dissolve the aura of mystery in which the myth of Leonardo has often been shrouded: a mind tenaciously endeavoring to decipher the rational processes that animate the phenomena of the physical world as well as the "motions of thought", driven by the desire to achieve a perfect imitation of nature in drawing and painting.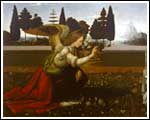 Leonardo da Vinci,
Annunciation (detail)
Uffizi Gallery, Florence
The exposition of originals (the Saint Jerome from the Vatican Museums, the self-portrait from Turin, the 'exploded skull' of the Weimar Sheet which is on display for the first time in Italy), is accompanied by innovative educational tools, including: 3D animations and high-definition reproductions, functioning models carefully constructed using historically accurate techniques and materials (of particular interest is the world premiere presentation of the mechanical lion designed by Leonardo for the arrival of Frances I in Lyonne in 1515), digital stations with access to interactive contents, virtual reconstructions of some of Leonardo's lost works and films which illustrate for the first time sensational new discoveries in his drawings and paintings (in particular related to the Adoration of the Magi).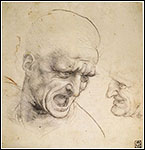 Head of a warrior
Szepmuveszeti Muzeum
Budapest no. 1774r
The aim is not so much to emphasize the extraordinary breadth and variety of his interests, as to highlight his constant recourse to certain fundamental principles and concepts, daringly transferred through visual and structural analogies from one field of research to another.
From October 3 the exhibition The mind of Leonardo will be enriched by an additional section under the title At the time of the " Battle of Anghiari" (1504-1508) , hosted by the Print and Drawing Department of the Uffizi Gallery.
Section VII represents a real "show within a show", offering visitors the opportunity to admire over 30 Leonardo's autograph sheets, lent by prestigious cultural institutions from all over the world, a precious original manuscript (the well-known Codex on the flight of birds), paintings of great beauty derived from Leonardo's lost works, as well as sculptures, remarkable engravings and ancient prints.
The Mind of Leonardo inaugurates the series of events entitled Universal Leonardo, which are part of the prestigious programme of the 28th Exhibition of Art, Science and Culture promoted by the European Council.
.................................