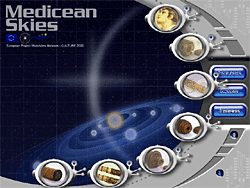 During the exhibition, visitors have access to the application Medicean Skies, designed and realized by the multimedia laboratory of the Istituto e Museo di Storia della Scienza of Florence, both in Italian and English.
It's possible to go into some itineraries, starting from the biographies of the event protagonists (such as Galileo, Torricelli, Campani, Divini…).
These itineraries show images, texts and slide shows explaining instruments and also an evocative 3D animation of Galileo's Jovilabe.